Hattori,Shinji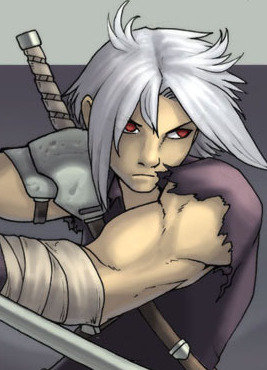 General Information
Name:
Shinji Hattori
Gender:
Male
Age:
20
Height:
5'10
Weight:
160lbs
DOB:
21st Nov
Appearance:
Spoiler:
Personality:
Shinji has a very brave and cynical nature, his tinge of ego sometimes shrouding his much calmer and more refined self. Showing a form of kindness and humor, Shinji has shown to be very genuine in his respect of allies, and foes alike.Humor and finding things funny, also seem to be one of his strong traits. Showing this after winning a battle, or when fighting in mock-combat, or even in real combat, not trully showing a serious side to him. His bravery showing, as in everyday missions, showing his skill in weaponry, and preforming daring deeds, and even suicidal missions, to accomplish the job, for sake of the whole. Humor and finding things funny, also seem to be one of his strong traits.Shinji administers his pride and humor in relationships, never offering a dull moment, and keeping the events lively
Likes:
Planning, Having fun, Combat.
Dislikes:
Unnecessary violence, Surrender, Lies.
Character Information
Rank:
Chuunin
Country:
Numa no Kuni
Combat Strengths:
Speed, Strategy, Perceptiveness, Unusual willpower to resist genjutsu.
Combat Weaknesses:
Stamina, Disadvantage when not concealed, Ego.
Equipment:
[*]20 Kunai
[*]20 Shuriken
[*]30 Senbon
[*]30Explosive Tags
[*]30ft Ninja Wire.
Weapon:
1x
Super Vibrating Sword
Element(s):
Water and Lightning.
Jutsu:
Spoiler:
Other Information
Relationships:
N/A
Family:
N/A
BACKGROUND
Bio:
Humble beginnings
Spoiler:
Days of teamwork
Spoiler:
Separation,Trauma, Ressurection.
Spoiler:
Currently...
Spoiler:
--------
RP Sample:
Dispatch Pinhead. Mission ID: 4035
Requested by: Classified
Brief: A syndicate of criminals has arisen in the border lands of swamp lead by an influential man known as Pinhead. The syndicate operates in kidnapping for ransom, assassinations, theft and smuggling. The syndicate is yet rising and by no means should it grow roots further in our lands.
Location: Within the Itsumo River Forest.
Objective: Eliminate Pinhead *picture inserted*
"So this must be him eh ?" Shinji rose an eyebrow monitoring a short figure walking and insanely gesturing around. He seemed to have two constant bodyguards next to him. If the ninja was able to intercept them before they entered this 'mansion' it would have been easy dispatching them but this...
The mansion looked more like a reinforced fort and it was constantly secured by patrols and stationary guards that had pretty much useful items as projectors and sirens. Breaching inside the fort would be hard but locating him inside was a different story, the chuunin was not sure how many guards were
inside
the building too.
Something caught Shinji's eye and he quickly generated the plan of breaching in. Using the mist technique would've been much much easier for the ninja but he did not risk letting any possible ninjas around for his presence that would act quickly to prevent harm to their boss - Pinhead. Using the night as disguise he synchronized himself on when the projector light was moved from a window which below it were wooden ledges that were most likely planned for building a terrace but the idea seemed to be abandoned. This although did not interest Shinji. The ninja grabbed his kunai which was connected with a wire and hurled it forward to the wall that the window was on. He swinged right at the time when neither the projector nor the patrols were there and he landed on one of the ledges further from the window just in case anyone inside did not see him. The chuunin approached the window carefully and opened it very slowly with all his senses activated at the maximum. No one was around and the Hattori did not wait for another chance to enter.
The mansion inside was very luxurious and had walls of marble and also the floor was made of marble although it was covered with red carpets. Shinji closed the window carefully and listened to everything around him and also analyzed the place seeking any hiding places or traps. There was nothing...until a feint sound of steps was heard coming from the corner. The ninja leaned on the corner of the corridor patiently waiting for the steps to pass away. But they did not. They were coming towards the chuunin. It was just one who was coming towards the ninja and he prepared behind his corner as the steps became louder and louder. With a swift side step and a kunai in his hand he swinged the kunai at the man's throat and the victim dropped dead. Now it was time to move fast and locate his target.
Luck was on Shinji's side though as an annoying loud voice echoed through the corridors issuing commands. It was Pinhead.
With great pace and following the voice he climbed stairs without encoutering anyone. Finally when he reached the floor where the voice was most loud he slayed another two guards which were stationary and continued his walk towards the entrance of the room where the voice was coming from. He looked around and noticed there was no one and Shinji peaked inside seeing the two bodyguards that he saw before he infiltrated who seemed to be violently abused by the angry short Pinhead.
There was no way he could enter unnoticed in this small room so the chuunin used the moment of surprise that was in his hand to fire three shurikens at the targets. All connected except the one aimed at Pinhead.
"Heh you brat you think you can kill me off that easy? " He snickered and did the tiger seal but Shinji was able to avoid the sudden blast behind him which tore apart the wall and it crumbled leaving the two inside trapped. " No you are in my territory, you little brat."
Pinhead did a few handseals and sliced the air with his hand sending air slicers towards Shinji who was fast enough to avoid a fatal contact with them but he indeed was injured. The air slicers continued and the Hattori ninja had no other choice but to keep evading. He had no other options as he was in great disadvantage in such small space against a wind user. But the chuunin's stamina weakness was now calling and he knew he could not keep dodging forever and a smart idea popped in his head. While in the midst of dodging he tossed away kunais at certain positions around Pinhead who seemed to be blinded by anger after he felt he was being underestimated due to his short height. Feeling the toll of exhaustion on his body Shinji made a few handseals and a water clone popped out of nowhere going the other direction and forming handseals too. The great focus on Shinji by Pinhead was his mistake as the clone had finished the jutsu that the Hattori had planned.
"Lightning Release: Thunder Binding." A wall of lightning surrounded Pinhead who was shocked in surprise from the sudden turn of events. Shinji had tossed three kunais on the floor in a triangle around Pinhead and three right above them, using them as conductors his jutsu was successful. The chuunin had no other option to react quickly and finally end this battle. Shinji charged with his blade surging with lightning and vibration and the clone timing with Shinji's pace deactivated the jutsu while Pinhead was decapitated by the blade of the Swamp ninja.
The clone dissipated into water and Shinji sheath his blade.
"Time to look for the weapon storage and burn this place to nothing."
-----
Ok i usually don't do such long posts unless it's a solo topic cause i tend to give more freedom on other players on describing the surroundings, actions and such. So usually I do two or three paragraphs although if I am motivated I can do much more than two or three paragraphs. If there is anything with the RP sample and the ninja sheet, I apologize and I would make sure I tend to it as quickly as possible.